Carnevale is Italy's 'Mardi Gras', the celebratory period leading up to Ash Wednesday, which signals the beginning of Lent. This huge winter festival includes parades, masquerade balls, entertainment, music and parties. Mischief and pranks are also common during Carnevale because 'a Carnevale ogni scherzo vale,' meaning 'anything goes during Carnevale.'
HISTORY OF CARNEVALE
Carnevale's roots stem from pagan practices from ancient Greece and Rome used to mark the beginning of spring and the rebirth of nature. Much of Italy celebrates in the several weeks leading up to Ash Wednesday, the start of Lent, beginning with Giovedi' Grasso and ending with Martedi' Grasso.
After the fall of the Republic of Venice in the late 1700s, Venetians stopped celebrating Carnevale until it was revived in the 20th century. Now, millions of people travel to Venice every year for the Carnevale festivities, though Venice is not the only Italian city to celebrate Carnevale. Towns throughout Italy such as Viareggio and Ivrea also host their own version of the celebrations.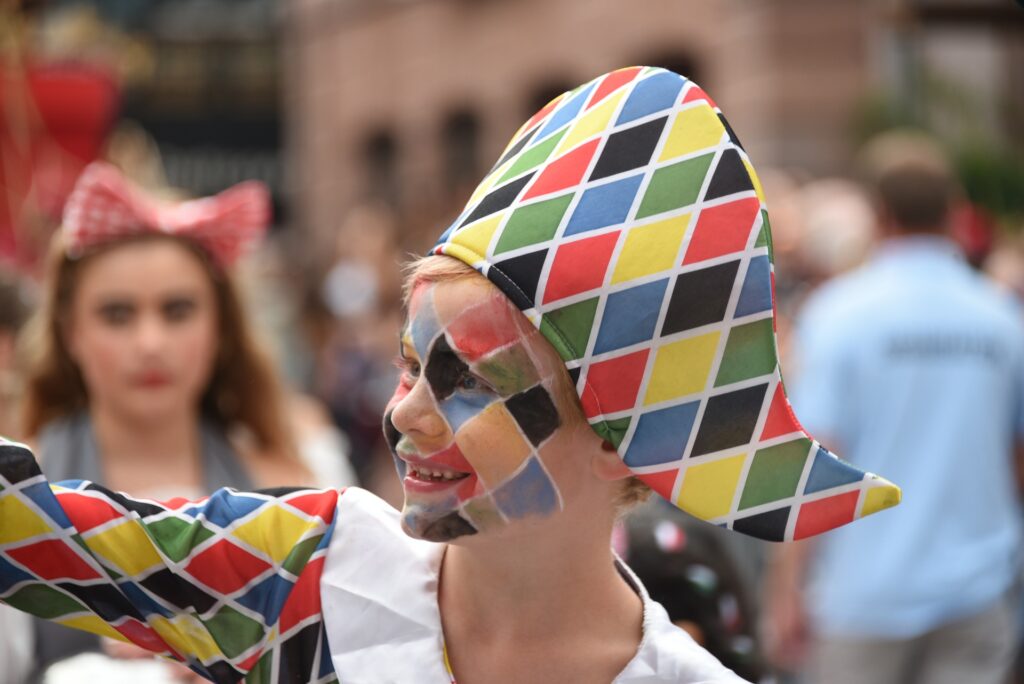 Masks, or maschere, are a staple in Carnevale celebrations, as are elaborate costumes. Originally, this was to let partygoers maintain anonymity when indulging in any illicit activities. Some examples of Commedia dell'Arte characters include, Arlecchino, Colombina and Pulcinella to name a few. Arlecchino is known for its colourful, diamond-print costume, black leather or cardboard mask, and for carrying a wooden spatula in its pocket. Historically, the Arlecchino would perform in front of Catherine de' Medici before seventeenth-century actor Domenico Biancolelli took the character to a more refined and witty place. This character's origin reach beyond the Bergamo and the Lombard borders, extending into Turkey. Colombina is the only female Commedia dell'Arte character and is known for her intelligence, charm and for speaking out of turn. She wears an elegant dress with a fitted bodice, flounce skirt, crestina and apron. Pulcinella is derived from pulcino, which means day-old chicken in Italian. Dressed in all white with a black mask and hooked nose, Pulcinella knows how to be both stupid and intelligent, and brave and cowardly at the same time.
SWEET LITTLE "LIES"
Staying true to the meaning of Martedi' Grasso, desserts are a big part of Carnevale celebrations. Fried or baked Carnevale desserts are found throughout the country, and though there are some similarities, every region puts its own spin on these treats by tweaking their shape, the ingredients used or the method of preparation.
The real institution of Carnevale is chiacchiere di Carnevale, which translates to 'chatter'. These crispy fried dough ribbons are dusted in icing sugar and are found across the country under a variety of different names. In northern Italy, this treat is called bugie, which translates to 'lies'. Elsewhere they are called frappe, cenci, crostoli, and galani. Some folks experiment by serving them with cocoa powder, honey, melted chocolate, or Alchermes (an Italian liqueur). In the Emilia-Romagna region you'll find Castagnole, which is very similar to chiacchiere di Carnevale, except the recipe also includes white wine and lemon zest.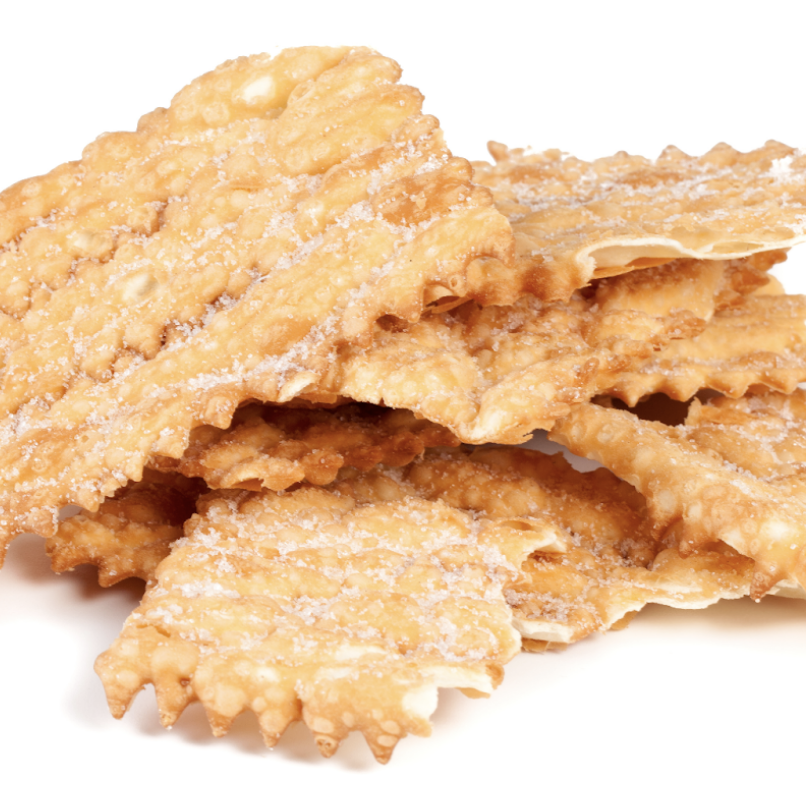 The origins of chiacchiere di Carnevale date back to ancient Rome. As part of Saturnalia. During this ancient festival of Saturn — which historically had been held in December — the Romans would make a similar sweet called frictilia. This simple and cheap sweet could be made in large quantities, and was distributed amongst the crowds of people celebrating in the streets. In the past, it was known as a sweet of the poor because it is made with so few ingredients. Both that attitude and the original recipe have changed, where chiacchiere di Carnevale is now a country-wide favourite to the point where Carnevale would not be complete without this iconic pastry.
There is also a Neopolitan legend that tells another version of the story. In it, a Savoia Queen was planning to spend the afternoon with her friends. She asked the chef to whip up something special for her to offer her guests, and so, the "Chiacchiere" was born. According to legend, the Queen chose this name because they were created to share while 'chatting' with friends.
OTHER POPULAR CARNEVALE SWEETS
Frittelle di Carnevale are found in the Veneto region and are round, yeast-risen fritters that are similar to bomboloni. In Naples, you'll find migliaccio, a semolina cake made with ricotta cheese. This particular dessert is unique as cakes are not commonly found as a part of Carnevale celebrations. Here, you'll also find graffe — these donut-like sweets have Austrian roots and are similar to zeppole, and include mashed potatoes in the dough. Carnevale tagliatelle is an Emilia-Romagna tradition that still lives under the radar. Puff pastry is cut in the famous pasta shape, rolled and filled with a sweet citrus mixture, and fried until golden. Cicerchiata are similar to Neapolitan struffoli which are popular around Christmas time. This treat is truly stunning, as it is typically decorated with colourful, metallic edible sugar balls.
Just as almost every Italian region has its own Carnevale treats, they each celebrate the occasion in their own way. All the merriment is meant to be the last hurrah before entering the pious period leading up to Easter. Be sure you make every joke and treat count!