The longstanding debate about whether pineapple belongs on pizza has been dividing foodies for years, with passionate arguments coming from both parties. Since the invention of Hawaiian pizza, one thing remains clear: you either love it or hate it. Throughout the years we've seen other contemporary pizza topping creations such as kiwi, strawberry or even banana slices. Although those never gained popularity quite like pineapple, adding different ingredients to traditional pizza is a common practice in North America, but not typical of true Italian cuisine. Keep reading to hear how this food phenomenon evolved and learn more about traditional and non-traditional pizza methods.
A Canadian invention
Originally from Greece, Sam Panopoulos is credited as the inventor of Hawaiian pizza in Chatham, Ontario in 1962. Hawaiian pizza consists of a usual pizza base: tomato sauce, mozzarella cheese, topped with pineapple and sometimes ham or bacon. The pizza was intended to offer a sweet and savoury taste, something Sam was experimenting with that took off unexpectedly. Since then, many establishments have begun playing around with pizza to offer new creations.
Lamanna's Bakery: Home of the experimental big slice
Located in Scarborough, Lamanna's Bakery is a family-owned bakery and pizzeria. Owned by Rosa Lamanna, her husband and sons, the bakery is known for fusing generations of authentic family recipes and updating them with contemporary ideas. Having food that is both fun, delicious and adventurous is their motto, so it's no surprise that the bakery carries items like 'TO's Big Slice,' a pizza slice that is 28 inches long.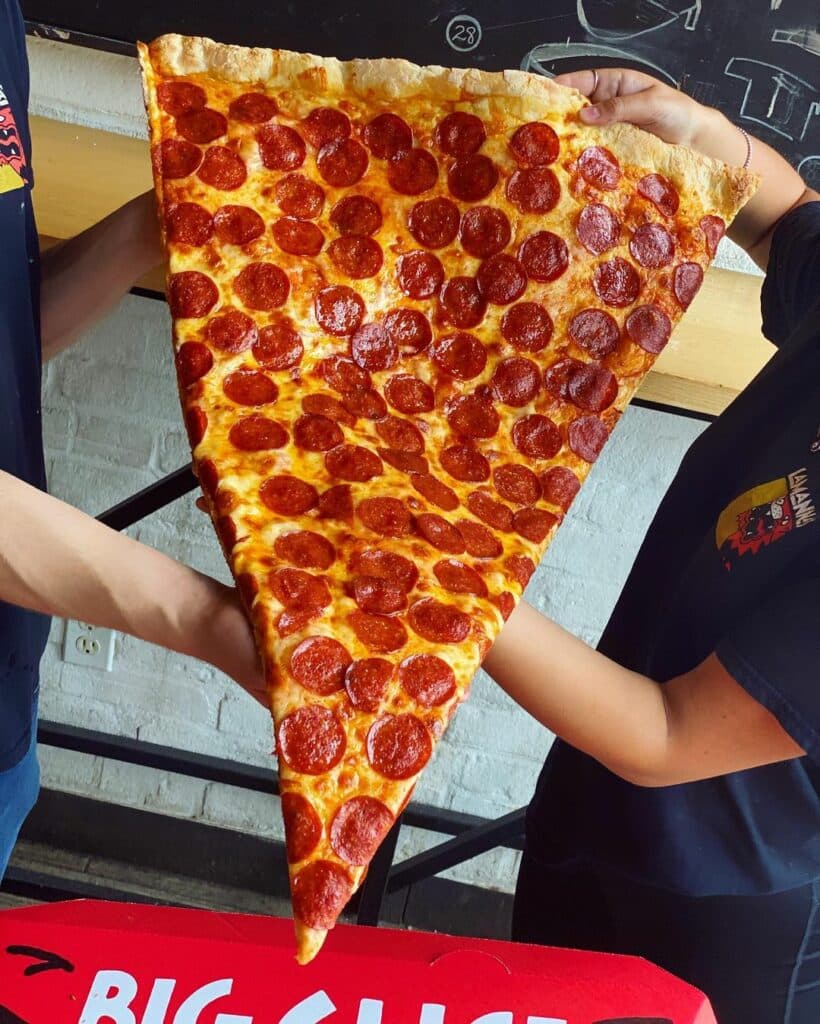 Scroll down to learn more about the non-traditional pizza slices served at Lamanna's Bakery.
Hawaii 5-0 Big Slice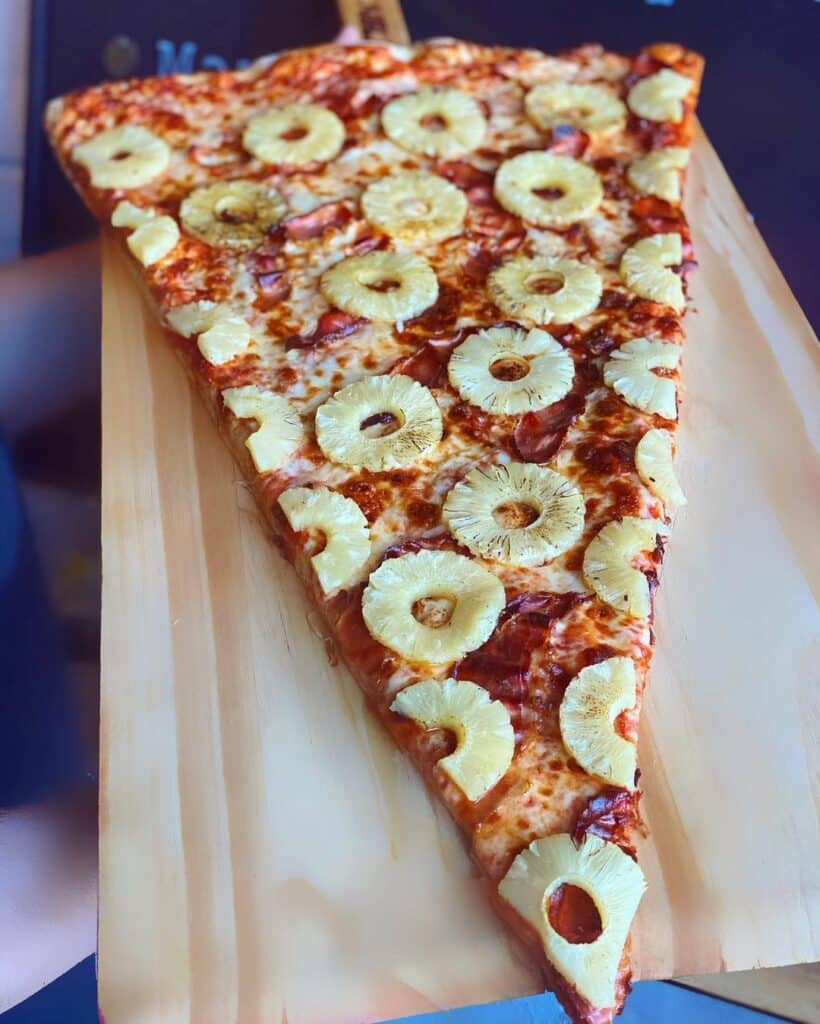 It's only natural this experimental pizza joint offers the most controversial pizza, the Hawaiian. This large pizza slice features circular cut-outs of pineapple, cheese, tomato sauce and bacon.
Nachos Slice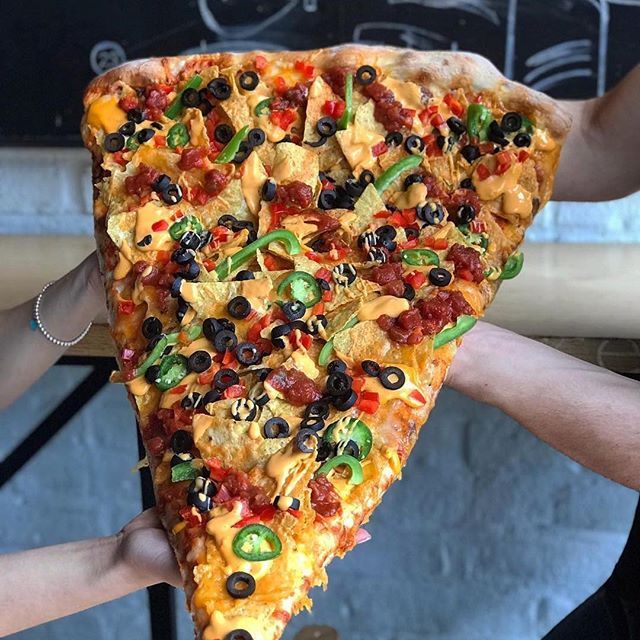 This is no doubt a Super Bowl favourite. With this vegetarian option, pizza lovers can enjoy tomato sauce, mozzarella, nachos, olives, tomatoes, hot peppers, onion, cheddar, cheese sauce and salsa on top of their big slice.
Traditional versus non-traditional pizza
Although culinary arts are meant to be fun and experimental, many Italian chefs have strong opinions about what can and can't be included in Italian dishes. Take Franco Pepe for example, an acclaimed pizzaiolo from Caiazzo, Italy known for his restaurant Pepe In Grani. As an Italian chef, Franco knows a thing or two about what makes for a true Italian pizza. In 2017, Franco even visited Toronto for the second edition of ICCO Canada's CENTItalia event.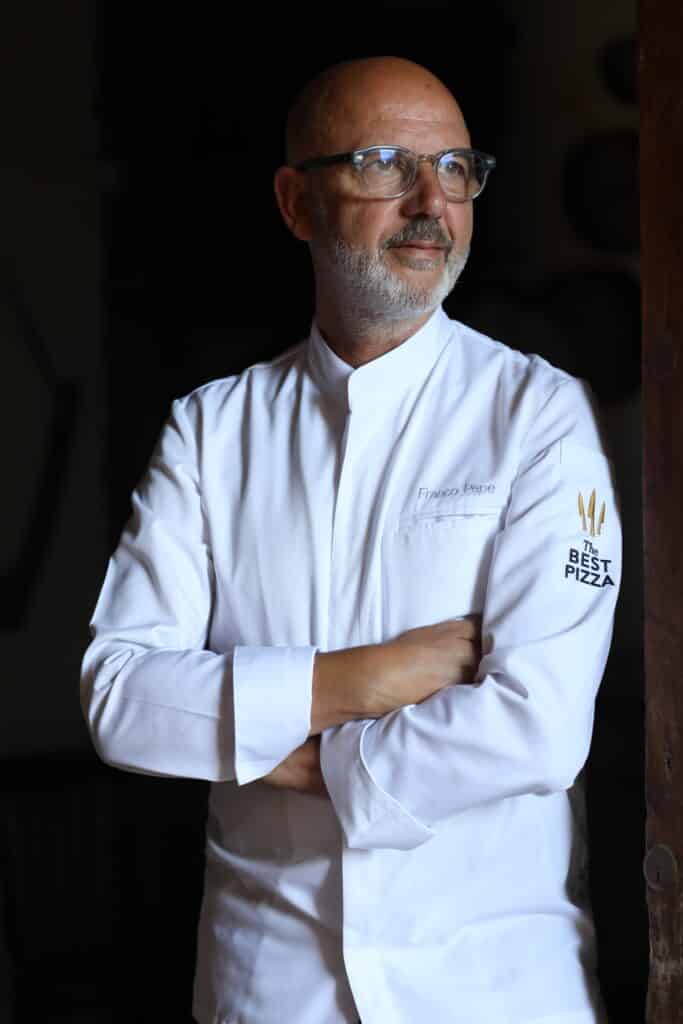 "A traditional Italian pizza is the margherita, or the marinara. A good dough is needed, which means a good flour, a good tomato, a good mozzarella (or fior di latte), and some small basil leaves," says Franco. "This is the pizza par excellence, the margherita, recognized all over the world as the Neapolitan pizza."
The main focus for Franco is to create traditional Italian pizza with the right ingredients and execution. His methods consist of sourcing simple ingredients which come exclusively from local suppliers, a key ingredient used for generations to ensure the highest quality of classic dishes.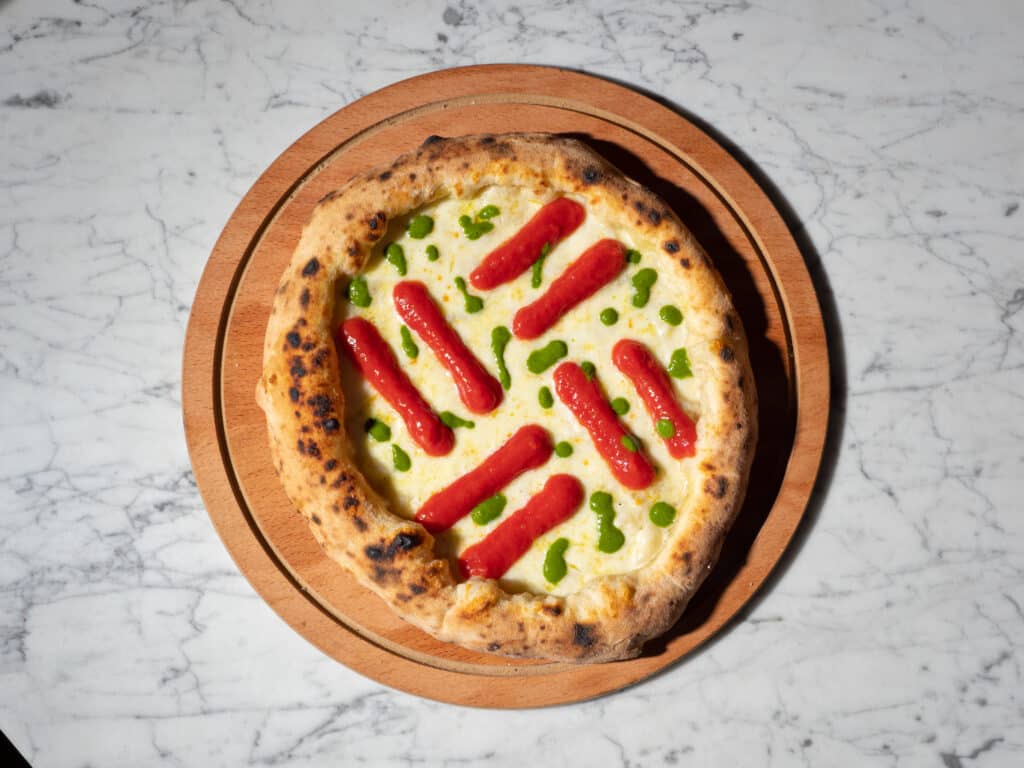 "I have demonstrated, by creating a fried pizza cone with pineapple, cheese fondue, a slice of prosciutto crudo, and licorice powder, that pineapple can be used on pizza," says Franco. "I wanted to free pineapple from being such a demonized product. Pineapple is a fruit that we like, which is why we eat it. I have [previously] done some research on when pineapple pizza was born, and the combinations used [were] wrong. The ingredient itself is not wrong, it's only wrong when used incorrectly on pizza. It is a mistake of the executor. But if a new ingredient is added correctly, it is acceptable as long as the ingredients and combinations involved are simple."
"Nowadays, the evolution of tradition happens by questioning tradition. There are a lot of cuisines that incorporate pizza making, and plenty of methods being used today in the kitchen are far from the concepts of the 70s and 80s when ingredients were bought and without being transformed were put on the pizza and put in the oven. Never abandon tradition completely, but use it in the right way. We should question it with ideas to transform the ingredients." says Franco.
Whether or not you agree or disagree with pineapple on pizza, getting creative and experimenting with flavour doesn't have to be a bad thing. Although changing an age-old traditional recipe may not always work, and not everyone is bound to like it, having fun and creating new recipes can often put a fresh unlikely favourite on your radar while still appreciating the classics.