When you hear the words: "best Italian restaurant in the world", you're probably picturing an upscale dining experience inside one of Italy's quintessential cities, or a seaview restaurant along its many coasts. Outside of Italy, the title of best Italian restaurant is held by Toronto-based Don Alfonso 1890, located inside the historic Casa Loma. Don Alfonso 1890 embodies a feeling of royalty by mixing a luxurious ambience with Italian cuisine courtesy of Executive Chef Ernesto Iaccarino and Nick Di Donato, CEO and president of Liberty Entertainment Group.
Established in 1973 by Chef Alfonso Iaccarino and his wife Livia in Naples, Italy, Don Alfonso 1890 has made history in the Italian restaurant landscape. This family business is home to Michelin Star Chefs Alfonso and Ernesto Iaccarino, who have been working in collaboration with Di Donato since 2018 to bring the best of Italian cuisine to Toronto.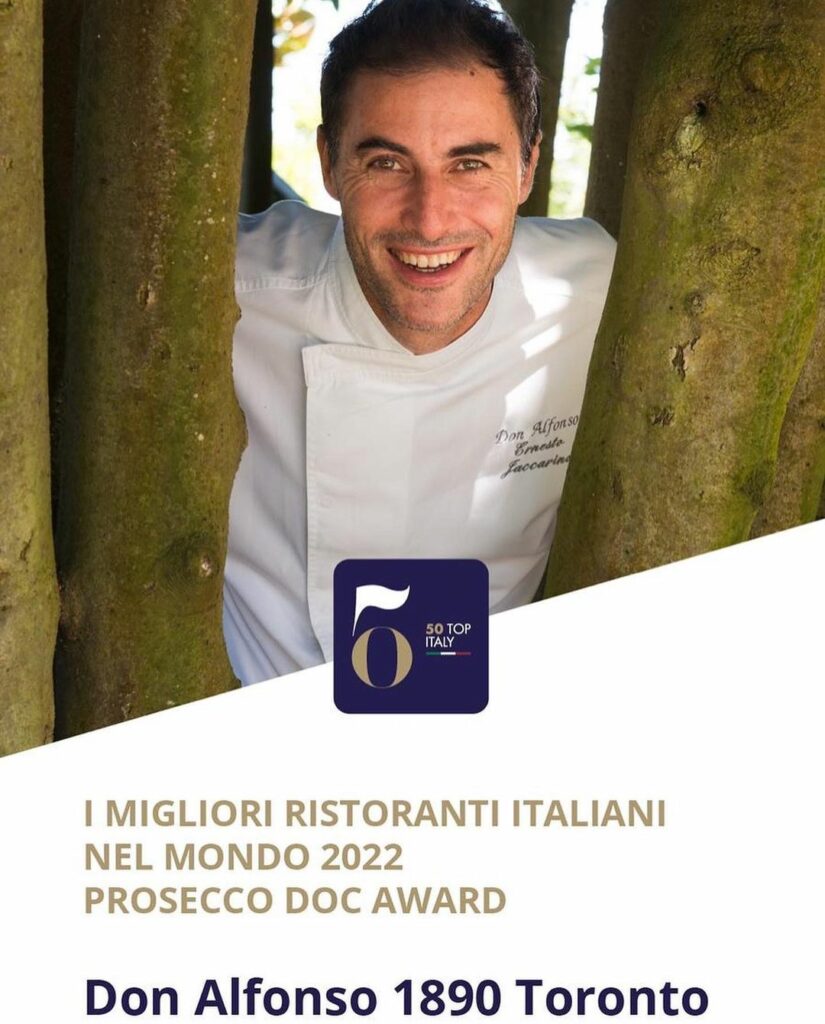 NAMED #1 BY 50 TOP ITALY
This year, Don Alfonso 1890 was awarded first place as the best Italian restaurant in the world outside of Italy, as well as best meal of the year by 50 Top Italy. This online guide features all there is to know about the best of Italian cuisine — restaurants and chefs from all around the world covet this honour, carefully awarded by an assortment of critics.
In addition to recognizing 50 restaurants globally for their exquisite Italian dining experience, 50 Top Italy awards vote on which restaurant should win Meal of the Year 2022 Mulino – Caputo. This year, Don Alfonso 1890 took home the crown for their multi-course tasting menu which captures the bold flavours of authentic contemporary Italian cuisine. Notable dishes include L'Anguilla, which is composed of eel gelato, sturgeon caviar, wild rose scented tagliatelle, pulverized egg yolk, and minced herbs from Don Alfonso 1890's garden and Il Bisonte, a Manitoba tenderloin wrapped in swiss chard, served with buffalo mozzarella, salsa verde, and a San Marzano tomato and red chilli reduction. "It's an incredible honour," says Di Donato. "The rating system [ … ] really exemplifies how great a job our team has done in reflecting the time, culture, and cuisine in Toronto and Canada, from Italy," he adds.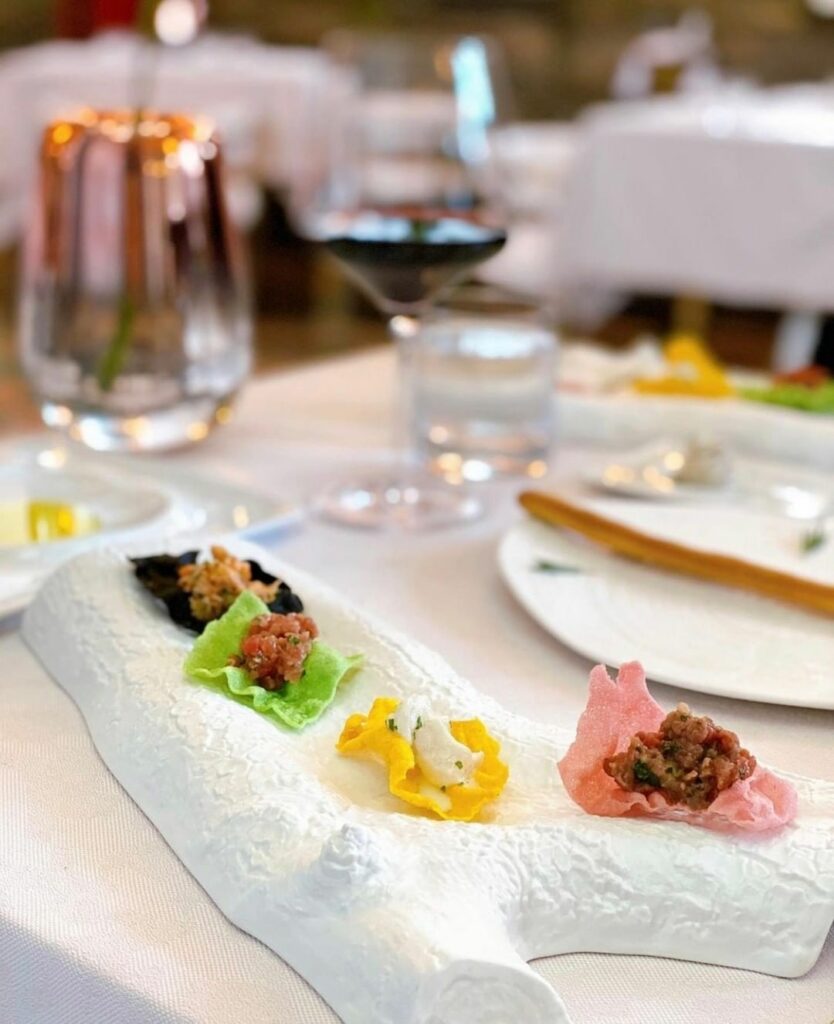 MICHELIN MISSION
Liberty Entertainment Group is known for creating popular food brands in the city such as BlueBlood Steakhouse and CIBO Wine Bar. However, the vision for Don Alfonso 1890 was a bit different than Liberty's other restaurants — that is why Di Donato and his wife Nadia embarked on what they called their "Michelin Mission".
They travelled the world and taste-tested different cuisines in Asia, Europe, South and North America. Don Alfonso 1890's cuisine stood out as different from other Michelin star menus they had tried. True to its Italian origins, this family-owned business serves up contemporary dishes following the principles of the slow food movement. Their adventure helped them find the perfect recipe for a successful and unforgettable Italian restaurant experience in Toronto. "On [our] "Michelin Mission" — and it may have been because of my culture [and] affinity to Italian cuisine — but I travelled around the world and ended up in a town on the Amalfi Coast, which is about 80 kilometers from where I was born. [ … ] That was the restaurant I felt was the best restaurant in the world to bring to Toronto. And it's come to fruition because 50 Top Italy has agreed with me on that," Di Donato explains.
With Alfonso Iaccarino at the helm, the original Don Alfonso 1890 in Italy was the first southern Italian restaurant to be awarded three Michelin stars. "Alfonso Iaccarino inspired a whole new generation of chefs around the world by going from a buttery, high-end Michelin-style cuisine, to [one that is more true] to ingredients [like the] slow [food] movement," Di Donato explains. "At Don Alfonso 1890, we literally try to do this — we have our own gardens at Casa Loma where we actually harvest our tomatoes for our dishes at the castle itself," he adds.
"We wanted to partner with a Michelin chef to create extraordinary [ … ] cuisine here in Toronto, which truly didn't exist [at the time]," says Di Donato.
TRUE ITALIAN TASTE
Let's face it, there is nothing better than going to a restaurant that prioritizes quality. Don Alfonso 1890's parent company Liberty Entertainment Group is known in the industry for epitomizing true Italian taste — so much so that three of their restaurants have received the Marchio Ospitalita' certification, which is awarded to restaurants that use authentic Italian products and embody authentic Italian flavours on their menu.
The success of Don Alfonso 1890 has not only garnered the attention of the local food scene, but has also put Toronto on the map globally.
"I think Italian food is completely simple. It's just about the quality of the product and the composition of the ingredients," Di Donato shares. "It's all about how you juxtapose those flavours and try to make them a little bit different, but it's always the freshness of ingredients. [ … ] It also showcases what food is in Italy today and the modern food of Italy, which people don't recognize."