On Friday, November 18, 2022, the Italian Chamber of Commerce of Ontario Canada (ICCO Canada) celebrates the 10th edition of the Pentola D'Oro Awards, the annual gala that promotes excellence in food and wine and recognizes individuals as well as businesses and their extraordinary contributions to the Italian culinary and beverage industry in Ontario.
The ICCO UNICO PRIMO Pentola d'Oro Gala Dinner and Awards Ceremony will bring together professionals and food lovers to celebrate innovation and progress in this industry while networking with key role players to learn more about their recent accomplishments. Join us for a night to remember at the Liberty Grand Entertainment Complex in Toronto and get inspired by outstanding leaders, innovative products and companies.
As we celebrate the 7th "Week of the Italian Cuisine in the World" from November 14 to November 20, the Pentola d'Oro is the perfect occasion to celebrate the flavour and authenticity of Italian culinary excellence while enjoying the conviviality the Italian way.
Make sure not to miss it and indulge yourself in a taste of Italian identity and culture, right here in Toronto!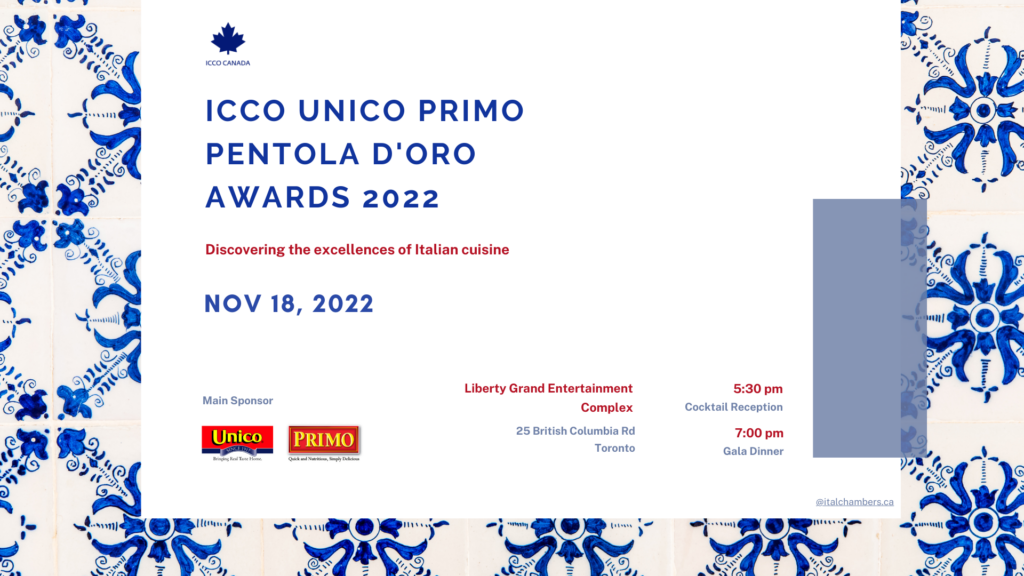 For more information on the event please visit www.italchambers.ca/events/pentola-doro-2022/