When it comes to frozen Italian desserts, gelato often steals the spotlight. However, the realm of exceptional frozen Italian desserts extends far beyond gelato, with a range of other traditional treats like spumoni and tartufo. These delicious treats are considered semifreddo, meaning half-cold in Italian. Even though they are technically frozen, these desserts remain soft and creamy. While ice cream is scooped, semifreddo desserts are moulded and sliced, usually in a metal loaf pan. With summer in full swing, let's explore the wonderful range of traditional Italian semifreddo desserts so you can cool down this summer the Italian way!
---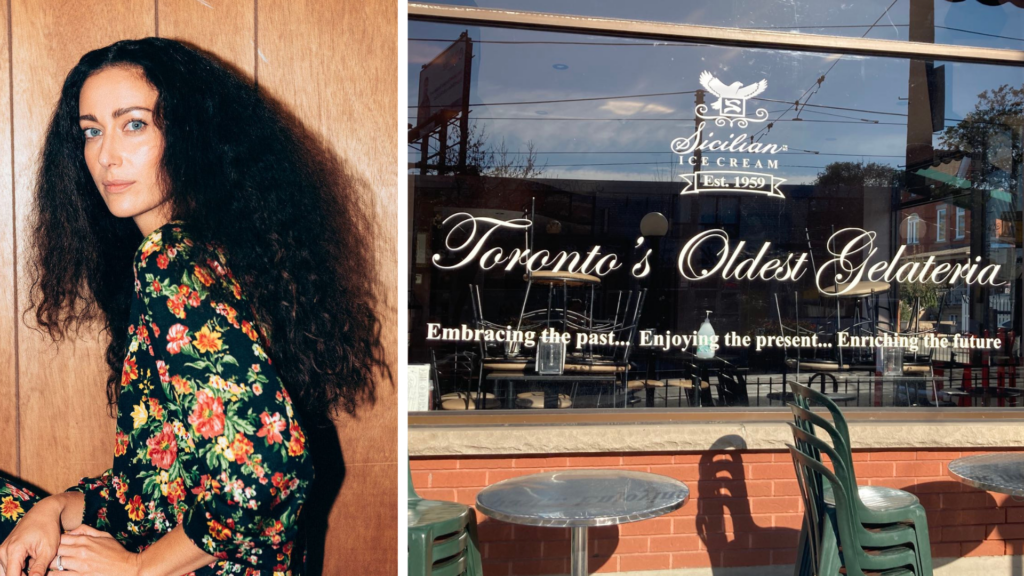 Ariane Laezza of Nonna Life and the window of Sicilian Sidewalk Cafe
---
To delve into these authentic Italian frozen desserts, we sat down with Ariane Laezza, founder of esteemed Italian lifestyle brand and blog Nonna Life, and Maria Galipo CEO of Sicilian Sidewalk Cafe, Toronto's oldest Gelateria.
---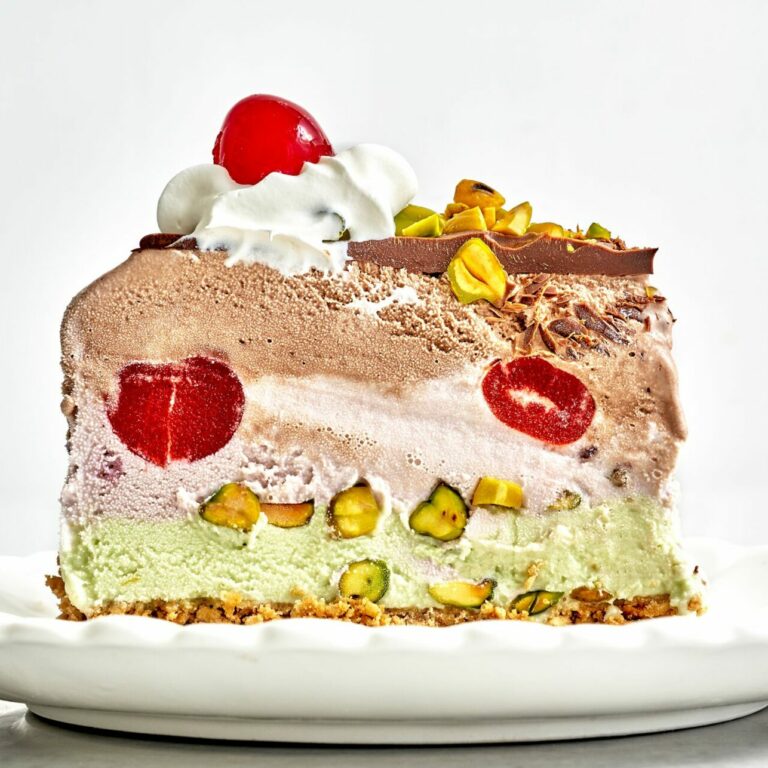 Spumoni, the Italian layered ice cream dessert made of three flavours, candied fruits and nuts
---
Spumoni
Spumoni is a delicious Italian layered ice cream dessert made of three flavours. Traditionally, it is made with chocolate, pistachio, and maraschino cherry ice cream containing candied fruits and nuts. While technically any combination of three flavours of ice cream can be used, the classic trio work harmoniously together and pays homage to the Italian flag with the green and red colours.
Ariane Laezza sheds light on the historical significance of desserts like spumoni, saying "some people may not know that the majority of Italian immigrants around the world come from the South, so recipes for desserts like these often made their way over to places like the U.S and Canada with those who immigrated, and then developed into a new, "modern" version of the original. For example, I believe spumoni is what became the infamous chocolate, vanilla, strawberry layered neapolitan ice cream your grandmother would buy at the grocery store."
While gelato has a universal and age-less appeal, Laezza wasn't always a Spumoni supporter. "Truth be told, I never really liked spumoni when I was younger. As a kid I thought the candied fruit were weird and couldn't understand why anyone thought it was good! Now, as an adult I find it both refined and playful and adore pistachio and cherry flavours that are common in a traditional spumoni. My dad makes homemade spumoni every New Year's Eve, and it's something I look forward to," says Laezza.
Sicilian Sidewalk Cafe has been serving Toronto spumoni for over six decades. Their recipe remains true to the original, combining the three traditional flavours along with fruit and nuts.
Maria Galipo, CEO of Sicilian Sidewalk Cafe, says, "our spumoni is swirled and has always been a combination of Cherry, Pistachio and Chocolate with fruit bits and nuts. Throughout the six decades that we have been making this product, it has also evolved and changed to adapt to modern day technologies which has enhanced both the quality and richness. For many years we also offered a layered option. This particular one was decadently rich and creamy layers of Vanilla, Banana, Pistachio and Cherry Ice Cream with Maraschino cherries."
---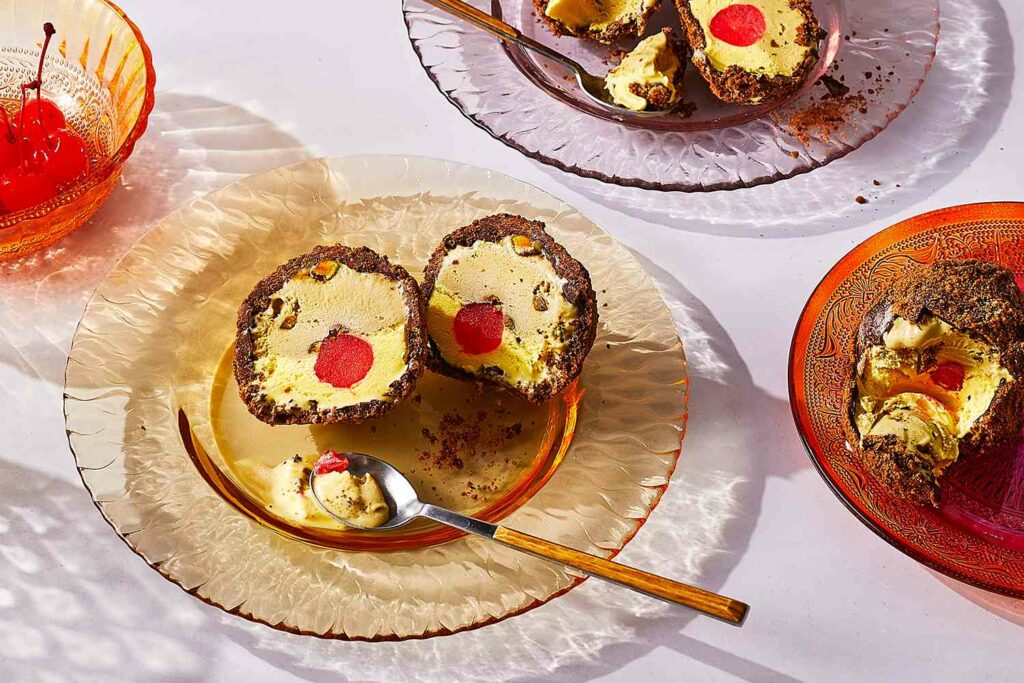 Tartufo, a round frozen dessert with an ice cream filling and a fruit or nut centre, coated in a shell of chocolate.
---
Tartufo
Tartufo, meaning truffle in Italian, is a frozen summer dessert originating from Pizzo in the region of Calabria, Southern Italy. The name refers to its resemblance to the luxurious fungi. The delicious round dessert features layers of chocolate and vanilla ice cream, with a soaked amaretto cherry inside. The entire treat is then coated in chocolate crumbs, cocoa powder or a hard chocolate shell.
Tartufo is the epitome of a fancy dessert that is surprisingly easy to make. With less than five ingredients and an elegant appearance, it is the perfect choice for special occasions and family get-togethers. Cracking open the hard chocolate coating, whether with a spoon or unveiling it slowly with warm espresso, adds an element of excitement for both children and adults.
Laezza fondly recalls her childhood memories of tartufo, stating, "I absolutely loved tartufo as a kid. [It] reminds me of Italian weddings and restaurants growing up in Montreal in the 80s and 90s. There was this one famous pizzeria we used to go to in [Montreals] Little Italy called Dai Baffoni and I would always get a tartufo for dessert. I remember my dad pouring espresso overtop of them as a sort of "affogato" that even as a six year old I would have!"
Sicilian Sidewalk Cafe is the ultimate destination for tartufo in Toronto. Galipo states, "the original tartufo that was made by the Galipo Brothers in the heart of Toronto's Little Italy, was the Vanilla Fruit tartufo. It was made in 1959 and was a creamy ball of ice cream with a candied fruit centre and coated with crushed almonds and nuts. This concoction was created from a Fior di Latte base which is the foundation of our "Sicilian Brand." [This] recipe has culinary roots in Sicily and our Grandfather who passed down the gelato tradition before his untimely death in 1942. [It's] a formulation that remains the cornerstone of our brand and products."
Galipo also shares, "Over the years we have offered a range of tartufo flavours and today the most popular one remains the Chocolate Zabajone Tartufo. It is a decadently rich and creamy chocolate ice cream with a zabajone centre, dusted with cocoa and finely chopped nuts."
---
Other Notable Mentions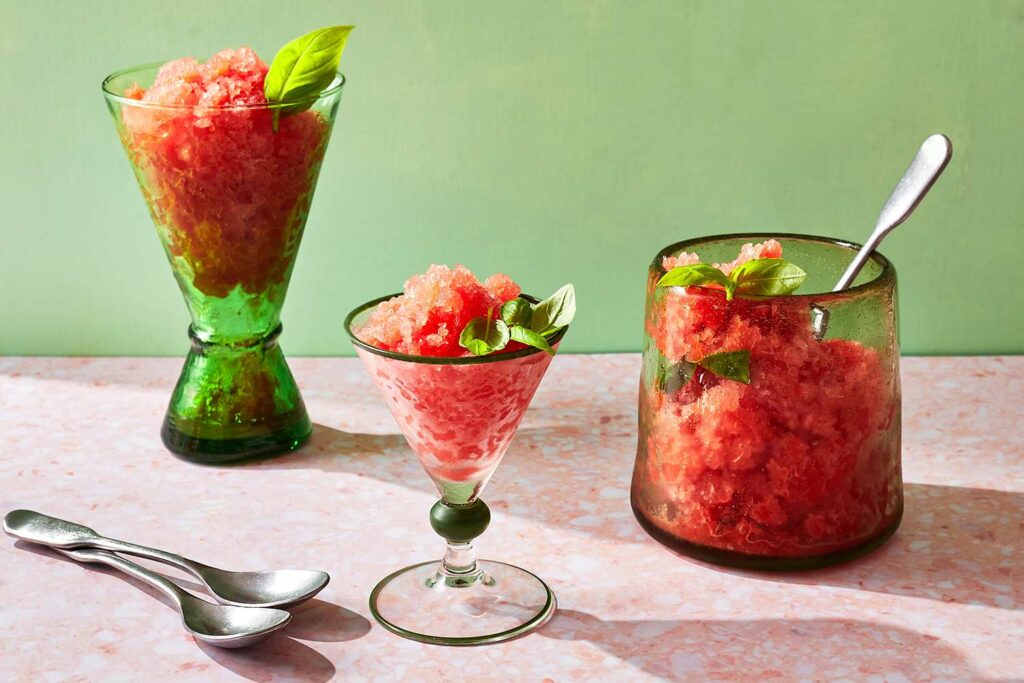 Granita, a frozen blended fruit and ice dessert
---
Spumoni and tartufo are only two of the lesser-known but equally delicious Italian frozen desserts beside gelato. Laezza's favourite dessert to treat herself to on a hot summer's day is granita, "I live in Toronto's Corso Italia neighbourhood so La Paloma was the go-to spot for many years, but unfortunately the St. Clair location recently closed. I really enjoy the granita from Futura." Granita is a semi-frozen dessert made with fruit, sugar, and water, blended and frozen until icy. The crunchy texture melts in your mouth, serving as the perfect thirst-quencher on a hot summer day.
When it comes to making frozen Italian desserts at home, Ariane has two go-to treats: affogato and pizzelle ice cream sandwiches. "You can't beat an affogato on a hot summer's day! A scoop of ice cream with strong espresso poured directly from the Moka Pot is the way to go. I also highly recommend a pizzelle ice cream sandwich: spread some Nutella over two pizzelle, add a scoop of gelato and press down. Heaven."
Galipo emphasises how providing a place for Italian immigrants to enjoy traditional frozen Italian desserts evoke powerful emotions, connecting them to their roots in Italy and fostering a sense of belonging. She shares, "growing up in this neighbourhood [Toronto's Little Italy] and being privileged to be a big part of this has been life-altering for me. I am always in awe when people share their stories with me. These connections run deep and are interwoven into the fabric of our lives today."
In the realm of frozen Italian desserts, Gelato may be the frontrunner, but spumoni, tartufo, granita, affogato, and pizzelle ice cream sandwiches showcase the rich variety and flavours that deserve equal attention and appreciation. So, venture beyond Gelato this summer and try these lesser-known Italian frozen delights.