In October of 2022, I had a very special opportunity to travel to Genoa to attend the 10th annual Mirabilia conference as a guest of ICCO Canada. This was an important meeting of tourism professionals from around the world to discuss the future of cultural tourism with a focus on UNESCO Heritage sites in Italy. We were treated to exclusive looks inside the magnificent Palazzi dei Rolli during the biannual Rolli Days, an exhibition of the work of Peter Paul Rubens at the Palazzo Ducale, and a trip to beautiful Portofino. It was truly a privilege to see in person all of these marvels of art and architecture and celebrate the rich history and stunning natural beauty of the Liguria region.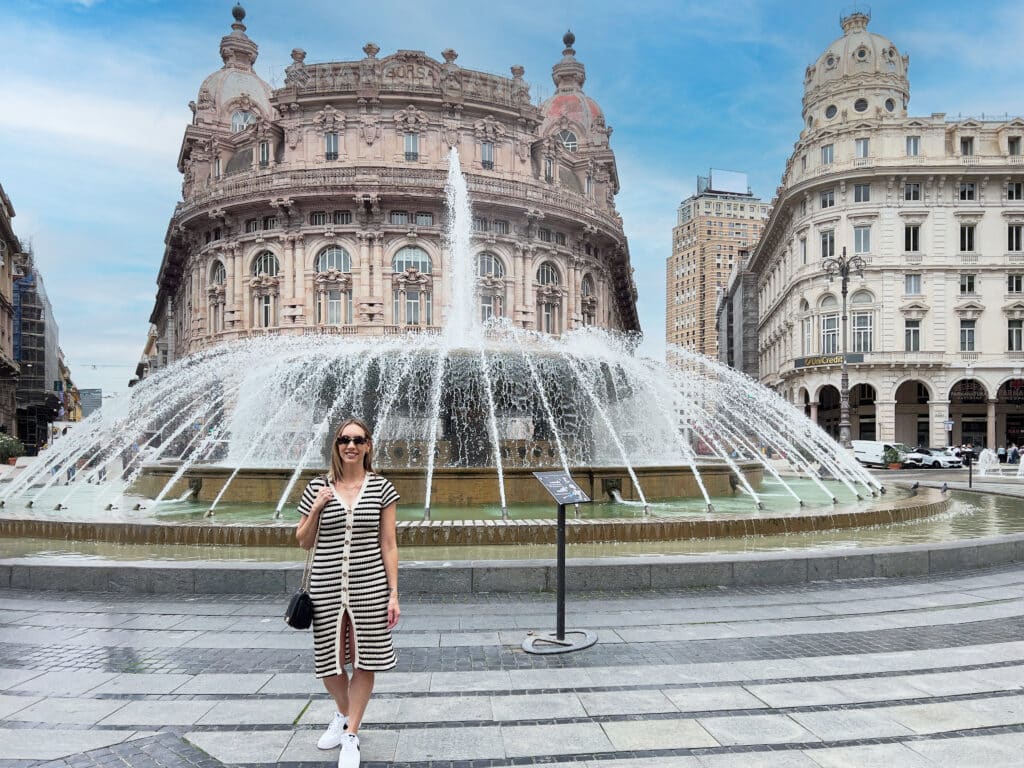 But what I was most looking forward to was – of course – the food. This was my first visit to this region of Italy, and I will admit one that I didn't know much about prior to my trip. As I did a little pre-departure research about the cuisine of Liguria, I was pretty excited to dive in and experience some of these legendary foods in and around Genoa. As someone who believes in the importance and quality of authentic Italian ingredients, it was exciting to have the chance to try these dishes right where they originated.
If you're planning a trip to Liguria, here are some of the celebrated foods that I suggest you seek out and try while you are there:
Pesto
Is it even possible to think about Genoa without pesto alla Genovese? It seems simple enough – a sauce combining fresh basil, garlic, pine nuts, a liberal amount of extra virgin olive oil (only the good stuff, please), coarse salt and a hard cheese like Parmigiano-Reggiano or Pecorino Sardo. It's something that I know and love (or at least I thought I already knew) so I was thrilled it was the star of our first meal in Genoa at Il Genovese restaurant.
Let me tell you – after trying what was freshly made right before my eyes that evening by the chef at Il Genovese, now I really know pesto. Whatever happened with that small list of fresh ingredients after being combined by expert hands with a giant mortar and pestle was some kind of alchemy. The result was a pesto as lush, green and fragrant as the surrounding hills of Liguria. While we did have it served on pasta, my favourite way of eating it that evening, and perhaps forever after, is a large dollop smeared on freshly baked bread. It was so simple, yet so delicious.
Pansoti with Salsa di Noce (Walnut Sauce)
This was perhaps my favourite discovery – and meal – in Liguria. And the best part about it was that it was a dish I hadn't heard of or tried before. A stuffed pasta (essentially Liguria's answer to ravioli) in a more triangular shape, the name means "pot-bellied". The filling consists of greens (spinach, chard, sometimes radicchio, plus herbs – this is open to some interpretation), ricotta and a hint of nutmeg and black pepper. The walnut sauce is essentially a pesto, minus the basil but with the addition of walnuts. Together the combination is hearty, creamy and downright addictive.
I was served this dish a few times during my days in Liguria, but for me the standout was definitely at Ristorante Manuelina in Recco, between Genoa and Santa Margherita Ligure. This restaurant is renowned for a number of reasons, but I would definitely return for a plate of pansoti with a crisp glass of Verdicchio any time. At this point, I'm trying to track down restaurants in Toronto that serve it so I can try and re-live that meal.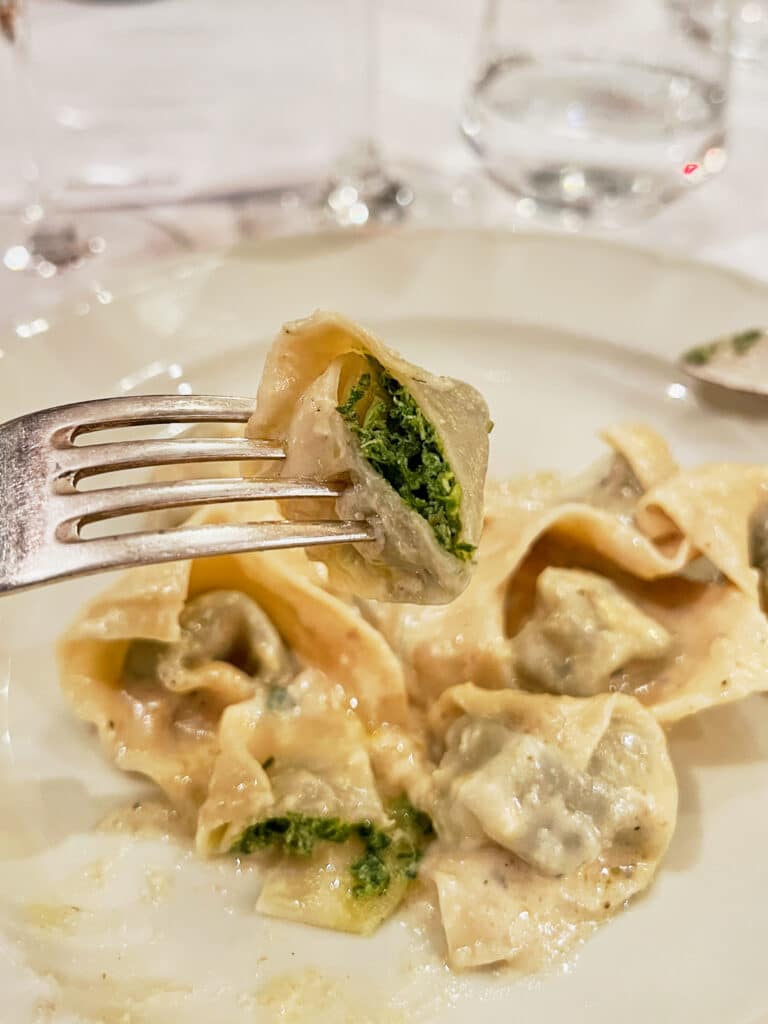 Focaccia
Now a staple throughout Italy in a variety of forms, focaccia is said to have originated in Genoa around the 11th century. This doesn't surprise me, as it certainly has been perfected by bakers all over the city and throughout Liguria. With its winding and sometimes steep medieval streets that are so tempting to wander by foot, it's easy to get hungry while exploring Genoa. Thankfully, you won't have to go far to find a focacceria that sells great sheets of focaccia alla Genovese – soft and slightly chewy, sprinkled with coarse salt and rich with olive oil. Just ask for a slice to the size of your liking as it is sold by weight. One particularly hectic afternoon, I stopped in for a piece dotted with plump green olives, and that was enough to keep me going as I explored the city's historic shops.
However, I would be remiss if I didn't mention the focaccia di Recco at Manuelina, which I was also lucky enough to see made by the chef. If you love cheese as much as you love carbs – this is the one for you. Two thinner, crispier layers of dough, with olive oil and soft stracchino cheese inbetween. This was quite a stellar starter course for my meal, and again, something I would definitely return for.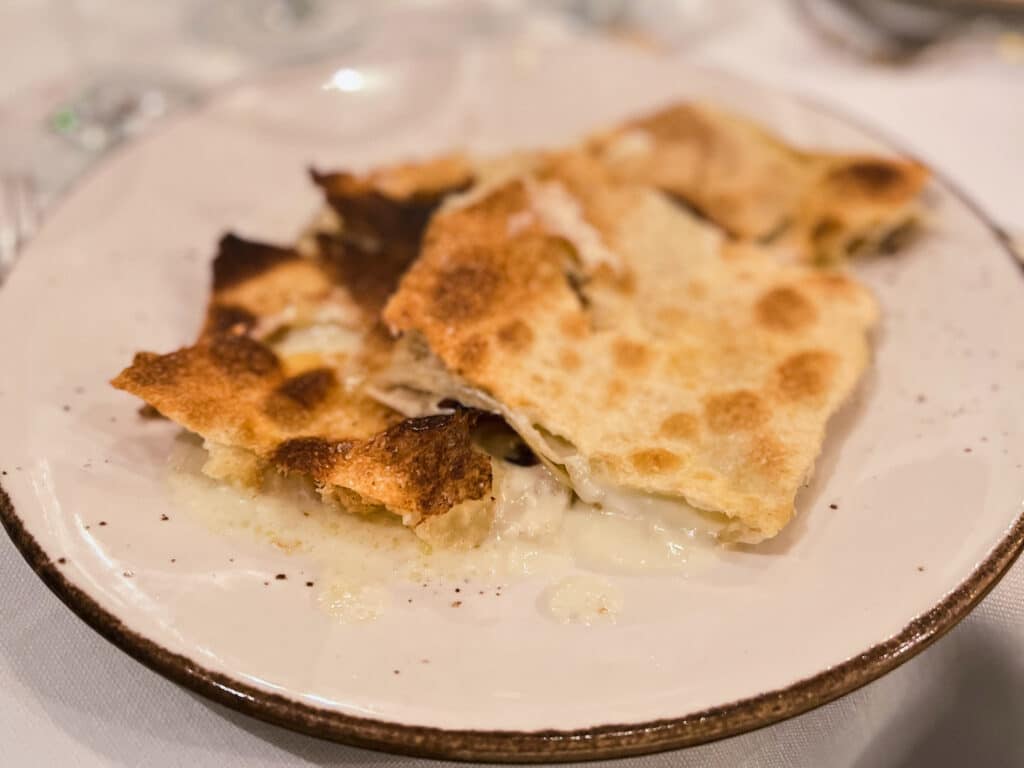 Calamari Fritti with Panissa Genovese
Given the fact that I am discussing the food of the Italian Riviera, I would be remiss if I didn't discuss seafood of some sort. I mentioned how much I love to snack while exploring a new city, one of my favourite finds in Genoa was Friggitoria San Giorgio. One sunny afternoon I was strolling along the Porto Antico and feeling quite hungry, when I found this tiny little nook selling fritto misto di mare in a variety of combinations. I opted for the straight up calamari fritti (as it's my favourite by far) with the addition of panissa, which are essentially "fries" made from chickpea flour (and not to be confused with the panissa alla Vercellese, which is a rice dish).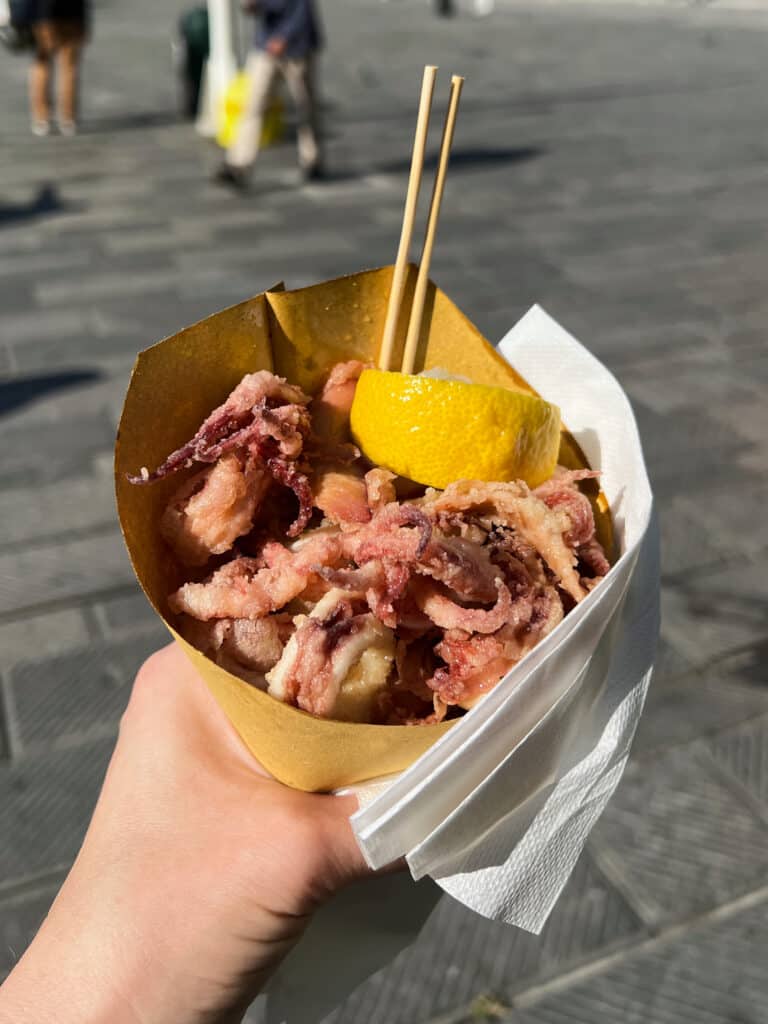 That made for one very happy afternoon. I found a spot by the seaside, and sat there, with my little paper cone full of calamari fritti and panissa with a couple of spritzes of fresh lemon. And speaking of spritzes, one of the Aperol variety was next on my list that day, which was the perfect refreshing follow-up to my snack by the Porto Antico.
Whatever your reason for visiting, I hope that I've sparked an appetite for Genoa and the Liguria region of Italy. It is full of delights – whether it's art, architecture, the beauty of the natural landscape, or of the culinary variety.