Whether thick and hearty, clear and light or pureed and silky, nothing says comfort on a cold day like a bowl of piping hot soup. Translated from the Latin suppa meaning "bread soaked in broth", this restorative dish has been in existence since 6000 BC.
At dinner or otherwise, when it comes to ladling out servings of this common primo, Italians have got several delectable variations. Many regional soups have humble beginnings as peasant food, made by utilizing inexpensive ingredients as well as stretching out costly ones. A prosciutto bone or parmigiano rind is often as valuable as gold when it comes to flavouring a bubbling broth. Recipes vary according to region; rice and pastas are features of Northern Italian soups while bean soups are a Tuscan specialty. Tomato and garlic are common flavouring agents in Southern Italy and the soups of coastal regions feature seafood. Ingredients in season also play an important role, dried beans and grains are used in winter when vegetables aren't readily available, while tomatoes, artichokes and green beans are used in summer and wild mushrooms are often the fruits of autumn soups.
Perhaps the most recognized zuppa, is the "big soup", minestrone. Every region has its own take on the tomato-based soup that contains a variety of mixed vegetables (typically carrots, celery, and potatoes), beans and small pasta such as maccheroni. Recipes for this beloved brodo are plentiful and incorporate regional trends; coastal regions add shellfish, while inland regions incorporate sausage or other meats. In Veneto for example, minestrone is rendered incredibly creamy thanks to a healthy number of potatoes, and it also incorporates spinach, beet greens and fennel, while in Liguria, it is made with radicchio and of course pesto. In Abruzzo it is commonly made with chestnuts and in Sardinia with chickpeas and pork rind.
Like minestrone, but not as brothy and containing no pasta, is the ribollita of Tuscany. This pappa is actually the reincarnation of minestra di pane. A wonderful use for crusty Tuscan bread, this robust winter soup is made with cavolo nero (kale) and a variety of other winter greens, cabbage, and cannellini beans. The minestra is layered and absorbed into pieces of bread making a hearty potage. When it is served immediately it is referred to as bread soup, however when it is reheated or re-boiled and served the next day (incidentally only making it better) it is called ribollita.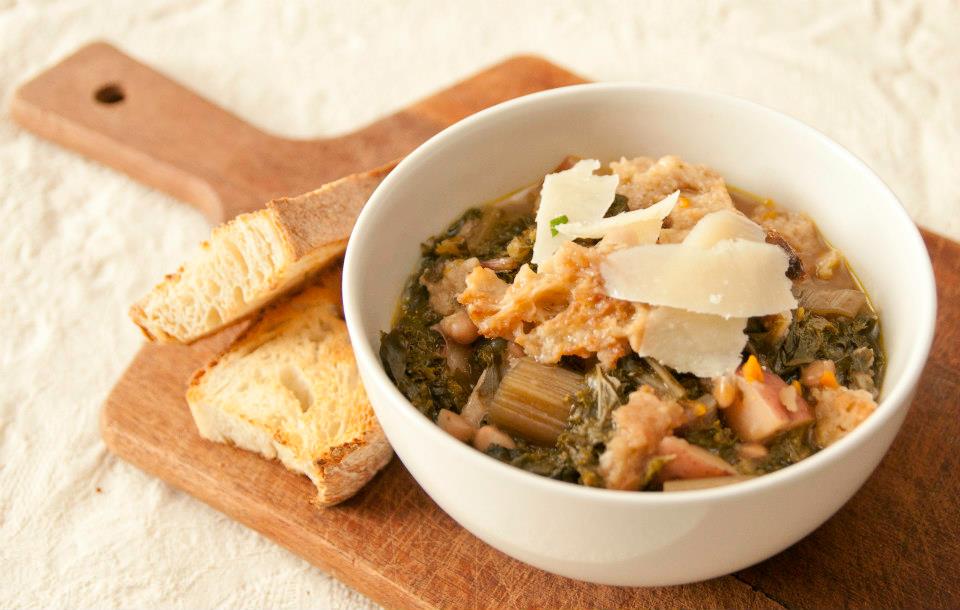 From Southern Italy where seafood is abundant, comes the zuppa di pesce. This traditional seafood soup is an opportunity to use the freshest local ingredients and typically utilizes the varied catch of the day, firm textured white fish, shellfish, tomato, herbs, and white wine.
Aside from being mere sustenance, soups are also celebratory. Take for example the Roman rag soup otherwise known as stracciatella. This flavourful broth featuring shreds created from beaten eggs and cheese is often served as part of the Easter Sunday meal. During the Christmas season, you will find minestra maritata, or "wedding soup" being served in Lazio and Campania, the marriage however has nothing to do with weddings, it is in reference to the marriage of ingredients: meat broth, meatballs, cooked greens, and pasta. The minestra maritata though, was often served to newlyweds to give them strength for their wedding night.
Other common bowlfuls across the peninsula include jota, the bean and sauerkraut soup from Trieste; supa de scigol, a Milanese version of onion soup featuring Taleggio (the runny cheese from east of Lake Como); and Zuppa Gallurese from Sardegna, prepared in layers resembling a casserole, consisting of bread, savoy cabbage, provolone, pecorino, and chicken stock.
A discussion on soup would not be complete without a look at the recipe considered the cornerstone of Italian soup-making, pasta e fagioli. Classic peasant food from central Italy, the recipe travelled easily with early immigrants and became a well-known starter in North America as well. No matter the soup, what's important to note is that each ingredient enhances the others; each batch has its own characteristics; and every good soup requires time to simmer to reach its full flavour.