The general rule of thumb when it comes to the enjoyment of red wine, is for it to be enjoyed at room temperature because chilling would dull its flavour. There is one delightful exception however, a sparkling, fruit-forward red from Emilia Romagna, known as Lambrusco.
Made from the grape of the same name, Lambrusco is always served chilled and is a wonderfully refreshing alternative to rose' as a summer sipper. Lambrusco is a lightly sparkling (frizzante) wine with flavours of berries and some floral notes depending on the variety. It can range from dry to sweet and varies in colour from light red to deep purple.
It is believed that Lambrusco grapes were the first to be made into wine, archeological evidence indicates that the Etruscans were cultivating the vine during the Bronze Age. While it is an age-old wine, it is best enjoyed young.
Emilia-Romagna is most famous for Lambrusco whose grapes are primarily found in the provinces of Modena (where the wine is extremely popular among the locals), Parma, and Reggio-Emilia. The DOC (controlled designation of origin) wines are Lambrusco Grasparossa di Castelvetro (this is the grape that makes the boldest Lambrusco wines), Lambrusco di Sorbara (this grape produces the lightest and most delicate and floral of the Lambrusco wines, often in a light, pink-rose hue), Lambrusco Salamino di Santa Croce (cylindrical salami-shaped bunches – which is what the grape is named after) and Lambrusco Reggiano (produces the most Lambrusco wine from a blend of varieties). An additional DOC Lambrusco hails from the Lombardy region, the Lambrusco Mantovano.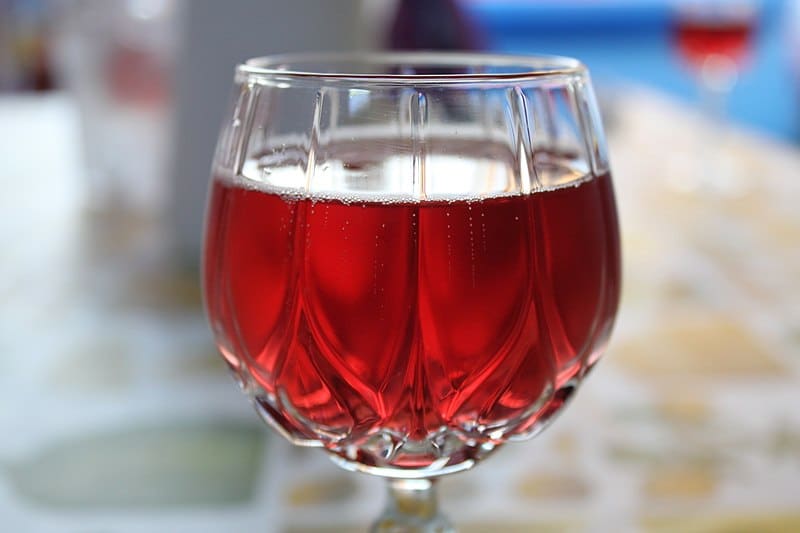 Lambrusco can range from lighter-bodied to full-bodied and is available in dry (secco), semi-sweet (semidolce), and sweet (dolce) varieties (the best ones tend to be secco or semidolce as they are not overly sweet). Most varieties have a bright acidity and are strong on flavours such as blackberry, boysenberry, raspberry, and strawberry as well as dark cherry flavours. Some varieties have notes of rhubarb, fragrant florals like violet, baking spice, pink grapefruit, orange zest, and pepper. The nose can include hints of raisin, almond, spice, and ripe fruit.
This wine obtains its signature sparkle from being twice fermented, which also enhances the flavour and freshness of the wine. It can either be fermented in the traditional Italian method where the second fermentation takes place inside the bottle itself, or in the modern and widely used Charmat method in which second fermentation takes place in stainless steel tanks.
If you have not yet tried this frizzante, there are several reasons why you should consider doing so. It is a sparkling wine, but its bubbles are not overpowering making it pleasing to the palate. Lambrusco also pairs well with just about everything. It is a natural pairing for Italian fare (salumi, salty cheeses, pastas, pizzas and of course the foods native to Emilia-Romagna) however its effervescence also cuts nicely through fried foods. Lambrusco stands up well to heartier meats like grilled steak or roast chicken and it even works well with fruit-forward desserts such as cherry pie or a berry galette. Last, but not least, Lambrusco is delicious and approachable making it easy to uncork a bottle and enjoy with friends.